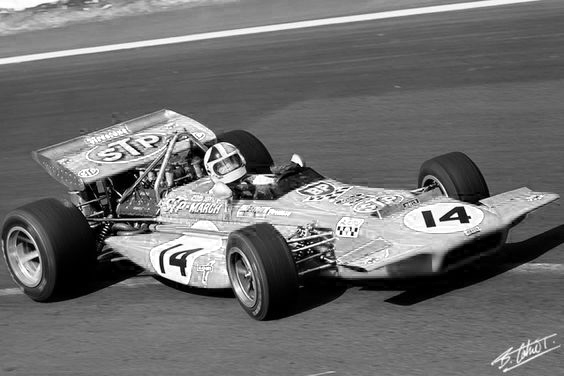 Some things you do not forget – like the Driver who won the first  F1 Race you watched as a Spectator and the first time you went to Silverstone!
Sad news earlier in the month of the death at the age of 73, of former New Zealand Grand Prix and Sports Car driver, Chris Amon, prompted me to write this Blog. Unreliable cars and being in the wrong team dogged his career and although he never won a Championship F1 Race, Chris did mange to win a number of non-Championship races for F1 cars during his career. One of these was the the two-part Daily Express International Trophy held at Silverstone in April 1970,where he won on aggregate, beating Jackie Stewart in the process.
Why do I mention this? Well, I was there attending my first ever motor race. Having followed followed F1 on TV and Radio for a few years I wanted to see the 'real' thing. After some persuasion on my part, my Dad took one of my school chums and I, we stood at Woodcote Corner in the cold and damp getting windblown and shivering for most of the day. Little has changed about 'Silverstone Weather' in the intervening years but Drivers certainly have. There are less characters now and Drivers are schooled in media speak and I feel show less of their real personality, despite the advent of social media. This incredibly talented, continually unlucky, chain-smoking Kiwi, would have been out of place in the modern F1 Circus.
However, maybe Chris Amon was luckier than he thought at the time. He finally retired from International racing in 1976, returning to New Zealand, after realising that he had lost the real motivation and seeing many team mates and fellow competitors loose their lives in horrendous on-track accidents.
That day at Silverstone really sparked my interest in Motorsport which grew and continues to this day both in my professional and personal life. Thank you Chris Amon for playing your part in starting my journey.